"
Septic Tank Pump-Out Driver's Comment
"Just wanted to say thank you for offering such a powerful tool against awful smelling septic tanks! In just a couple of days of using the starter pack and 1st treatment, we noticed the smell's gone, completely!".
Kick-Start Bio-Booster
Septic tank enzymes to reactivate your septic tank
Septic Tank Starter Enzymes
Post Pump-Out and Starter Treatment
Septic Tanks need bacteria and microbes to break down Solids. Septic tanks lacking 'good' bacteria soon clog up and overflow.
Following a septic tank pump-out the levels of bacteria in your septic tank and soakaway will be extremely low and inactive. Adding a Kick-Start BIO-BOOSTER adds 300 billion enzyme producing bacteria to kick-start waste digestion in your tank and soakaway..
Benefits of Kick-Start Bio-Booster
Septic Tank Starter - Activates Septic Systems Fast
Perfect After Pump-Outs to Reactivate Your Tank
Immediate Improvements in Waste Digestion
Quick, Simple and Safe Toilet Flushable Formulation
Less Tank Emptying - Saving You £100's in Pump-outs
Description
SEPTIC TANK STARTER FOR septic tanks needing to instantly improve waste digestion AND POST-PUMP-OUT to boost septic tank ACTIVATION 
A specially formulated septic tank starter culture will boost septic tank enzyme production to improve the digestion of organic waste, including fats, oils and greases whilst counteracting the harmful effects of detergents, bleaches and other household contaminants that destroy the septic tank's ecosystem.

Why Do You Need A Septic Tank Starter?
All septic tanks contain bacteria, but all too often the bacterial population is too small and inactive.
Bio-Booster septic tank starter enzyme producing bacteria energises and re-invigorate septic tanks and re-populate septic systems to create healthy aerobic bacterial activity, rapidly improving the break-down of sewage waste.
What Does a Septic Tank Starter Do?
A septic tank starter, (KICK-START BIO-BOOSTER) adds 300 billion essential bacteria to your septic tank system.
These septic tank bacteria set to work immediately to improve the digestion of the organic waste, including fats, oils and greases (FOG), toilet paper, and sugars and starches too, while counteracting the harmful effects of household cleaning products such as hazardous cleaners and bleaches.
Septic Tank Starters work to:
• Increase the bacterial population in your septic tank
• Reducing foul smelling odours
• Re-activate & energise septic tanks & drainfields
• Re-populate your septic tank system bacteria
• Create healthy aerobic bacterial activity
• Rapidly improving the break-down of sewage waste
If you experience major problems with blockages, excessive pump-outs or foul smells, we recommend that you use Triple Action Bog-Busters deep clean tank reactivator and degreaser, prior to starting a Muck Munchers XL 12 x monthly septic system treatment programme, which includes a complimentary pack of Bio-Booster.
How to Use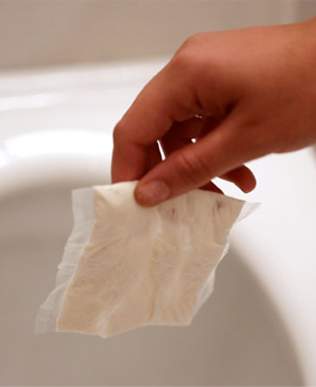 1. Simply drop the soluble Kick-Start Bio-Booster septic tank starter sachet down a toilet, leave it to dissolve and then simply flush down the pan.
2. It's then best not to use the toilet for a few hours, to help ensure some microbes attach themselves to drain walls and help clean them up too.
3. Follow the Bio-Booster treatment with a Muck Munchers XL 12 month programme, dropping a soluble sachet down a toilet each month and flushing it away, once the sachet has dissolved.
NOTE – When you order online, we'll subscribe you to the Muck Munchers Reminder Newsletter. If ordering offline then go to our Newsletter page to sign up – and never miss a monthly treatment.
4.9 / 5

rating
from reviews.co.uk
"
1 reviews
2 reviews
3 reviews
4 reviews
5 reviews
Sorted My Shower Waste and My Saniflo
Every time we flushed the Saniflo, waste came up in the shower in my daughter's bathroom. Following your advice, I put a Muck Munchers sachet in the Saniflo and left it overnight, and used Digesta in the shower and wash basin each day. In a few days all was flowing freely. The plumber had quoted £600 + VAT for a new Saniflo, so it was £43 well spent with you.
"
1 reviews
2 reviews
3 reviews
4 reviews
5 reviews
Saved a Lot of Money on Pump-Outs
I have been using Muck Munchers for nearly three or four years now and have not had to have my septic tank pumped out in all that time. This has been a great money saver as previous to using Muck Munchers the tank had to be pumped out annually. I must have saved more than £300 by using Muck Munchers in my septic tank. Thank you, Muck Munchers!
"
1 reviews
2 reviews
3 reviews
4 reviews
5 reviews
A Healthy and Odour-Free Septic Tank
I used to have a single stinky drain and despite every effort to check and understand why every so often an unpleasant smell would waft around in the breeze. Then I heard about the Munchers family and what good work they do so I gave them an opportunity to prove themselves and boy, did they ever! In a matter of two weeks, the smell disappeared and has never returned since. On a calm and quiet day, if you put your ear to the tank cover you can hear the sounds of a party. They truly are happy in their work and continue to be so to this day.
"
1 reviews
2 reviews
3 reviews
4 reviews
5 reviews
In Praise of Eco-Toilet Loo Cleaner
Apart from the lovely fragrance, this loo cleaner keeps everything clean, clear and fresh. 
"
1 reviews
2 reviews
3 reviews
4 reviews
5 reviews
Far Less Sludge and Tank Smells Better
I wanted to let you know that we had our annual service and inspection of our Klargester bio filter this morning. The engineer said he's never seen it in such good condition and significantly less sludge than in previous years – he even said it smelt much better than most units. I wasn't tempted to verify this!! 
"
1 reviews
2 reviews
3 reviews
4 reviews
5 reviews
Oxy-Tonic Bio Accelerator – the Answer to Septic Tank Smells
I have had issues with my tank for many months. I use other products from Muck Munchers but this was the first time I had purchased this. I did not completely follow the instructions as I tipped the whole bottle into the main tank and wow what a difference no more odours and no issues with the system sensors failing due to muck getting on them. I will certainly purchase again.
"
1 reviews
2 reviews
3 reviews
4 reviews
5 reviews
Eco-Floor Dual Action Keeps Floors Cleaner for Longer
So glad I tried this. It works so well. The cleanest we have ever achieved on our kitchen floor. Also, I recommend it for washing shower cubicle; both tiles and glass come out sparkling.
"
1 reviews
2 reviews
3 reviews
4 reviews
5 reviews
Eco-friendly Toilet Cleaner – Harsh on Stains
Having moved into a house with a badly stained toilet, I tried several cleaners that didn't work. Having to be careful because we have a septic tank I tried Eco Toilet and it did a fantastic job. Have been using it for over a year and will continue. Great product.
Prev slide
Next slide