Dual Action Eco Floor Cleaner
Dual Action Eco Floor Cleaner
Pet Safe Floor Cleaner
1 Litre Bottle = up to 24 Washes
Dual Action – Microbial Floor Cleaner. Keeps Floors Cleaner Longer
Keeps Floors Cleaner Longer
Out of stock
Dual action ECO FLOOR cleaner is an advanced pet safe floor cleaner for use on all hard floors; laminate, wood, stone, slate, tiles and vinyl.

This non-toxic bio floor cleaner is safe for pets and septic tanks. It's kind on paws and helps to boost the healthy bacteria population in your tank.


ECO FLOOR cleaner is a truly unique bio floor cleaner using microbial technology. Unlike standard liquid floor cleaners, following application, dual-action ECO FLOOR cleaner continues to clean your floors between washes to digest dirt and grime.
The Benefits of Dual Action Eco Floor Cleaner
Extended Performance - Microbes Continue Cleaning Between Mopping
Highly Effective Cleaner – Removes Stubborn Stains
Pet Safe Floor Cleaner
Removes Deep Ingrained Microscopic Grime
Eliminates Surface Pet Odours
Removes 2 x more grease than standard liquid floor cleaners
Description
Most ECO floor cleaners lead to grime build-ups around skirting boards, on plinths, in grout and within microscopic pores on wood floors, tiles, stone, grout and laminates.
The microbes in ECO FLOOR populate these areas digesting this residual build-up, to improve both the appearance of your floors and enhance their non-slip characteristics.
ECO FLOOR Cleaner Keeps Floors Cleaner Longer
"Thanks for the floor cleaner. I am so impressed with it. It cleans brilliantly and the results have been outstanding. It really does seem to leave the floor cleaner for longer too."
Dr Caroline Hall
Standard Liquid Floor Cleaner vs ECO FLOOR Cleaner
When you mop your floors using standard liquid floor cleaners you are actually pushing and spreading much of the dirt that you are trying to remove to other areas within the room, into grout, joints, skirting boards and plinths.
When you use ECO FLOOR cleaner the biological ingredients start working on the grime that you can and can't see straight away, and because each application removes more embedded grime it is more hygienic than standard liquid floor cleaners.
Regularly cleaning your floors with ECO FLOOR provides an added benefit of residual cleaning.
What Does Residual Floor Cleaning Mean?
Residual floor cleaning means once applied Eco Floor cleaner remains active, removing contaminants as they appear making future cleans quicker and easier.
IMPORTANT – In digesting fats, oils and greases in micro crevices, grout and skirting edges and between floor boards ECO FLOOR may over a period of time remove organic (oil-based) floor polishes. While removing filth embedded in the polish you may be a need to repolish the floor more frequently.
The Best Floor Cleaner for Pets and Smells
ECO FLOOR cleaner has been formulated using enzyme producing microbes not found in standard liquid floor cleaners.
The microbes and enzymes work to remove everyday household grime and are extremely effective in removing odours and discolourations without using harsh chemicals.
ECO FLOOR Cleaner Keeps Floors Cleaner Longer
"Just ordered more ECO FLOOR Cleaner. Nothing got rid of the dogs' smell. Well not until I started to use ECO FLOOR."
Roger Millard
Using harmful chemicals such as sodium hydroxide, potassium hydroxide, bleach and ammonia, unbalance the good bacteria in your septic tank are and harmful to both humans and pets.
---
ECO FLOOR cleaner works in two distinct ways to digest residual waste on floors, left in tiny spaces on and between tiles, indents, grout and along skirting boards.
1. After cleaning ECO FLOOR cleaner microbes set to work releasing enzymes that assist in breaking down long-chain organic molecules, cutting them into smaller molecules.
2. The microbes can then easily digest these bite-size morsels to simply produce water and carbon dioxide.
---
How to Use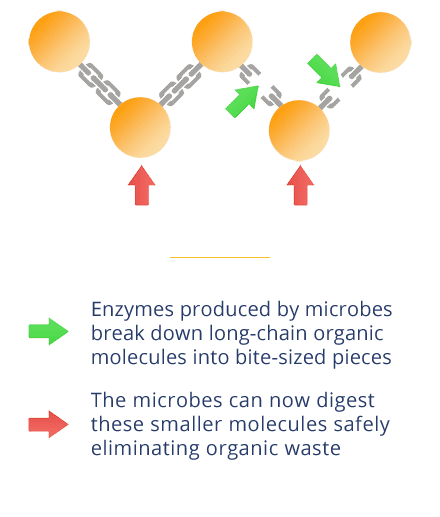 STAGE 1
Use Bio-Gen ECO FLOOR cleaner just as you would use a normal floor cleaner.
But that's where the similarity ends.
1 – Add 50 – 75 ml of ECO FLOOR per 5 litres of warm (NOT hot) water.
2 – Wash with a mop or cloth, wiping away excess.
STAGE 2
The residual cleaner left on the floor contains specially selected probiotic microbes that commence their work the moment you finish – digesting residual organic material and new waste too.
Showing our latest Product reviews for Dual Action Eco Floor Cleaner
Other customers also considered...