Mega Munchers – The Large Septic Tank Treatment
Commercial Septic Tank Treatment
For Commercial and Large Septic Tanks
Ideal For Commercial Septic Tanks
Scalable Larger System Treatment Programme
Commercial septic tanks, along with large shared and treatment plants share similar problems to those of smaller, residential septic systems. 
The main difference is the volume and the control of what users are flushing down into the septic tank system. Commercial properties such as restaurants, hotels, b&b's office buildings and camping sites have a higher volume of wastewater and therefore require a more extensive system and maintenance treatment to accommodate the increased demand put upon them.
The Benefits of Mega Munchers 12 Month Pack
Easy to Use – Environment Friendly
Vastly Reduces Pump-Outs - Lower Cost, Lower Business Impacts
Digests Waste Residues on Pumps and Aerators - Reduced Maintenance Costs
Broad Microbial Spectrum - Digests Fats, Oils and Greases & Paper
Reduces Unexpected Smells & Overflows - Minimum Guest Impacts
Cleaner, Purer Effluent Outflows - Improves Analysis of Statutory Authority Sampling
Description
PERFECT FOR SHARED SEPTIC TANKS & LARGER INSTALLATIONS – SUITABLE FOR 12 TO 500+ USERS
Mega Munchers – The Large Septic Tank Treatment is an easy-to-use, 12-month, flushable soluble sachet treatment. It has been designed especially for homeowners who share a septic tank or those who have larger-scale septic systems such as commercial businesses such as office buildings.
It is also ideal for all rural hospitality facilities, which rely on septic waste systems, particularly:
• Camping and caravanning sites
• Holiday cottages and lodge complexes
• Pubs and hotels.
Problems Encountered by Large and Shared Septic Tanks
Large and shared septic tanks have higher demands placed on them, so owners tend to lose a certain element of control.
Many holidaymakers are unaware that the hotel, bed and breakfast or rental cottage they are staying in is not connected to the main sewage network and will have no idea of the care required to maintain a healthy septic tank system.
As such, large and shared septic tanks frequently suffer from foul smells, slow-draining sinks & baths along with problems with soakaways.
The Importance of 'Healthy', Large Septic Tanks
Many owners of large and commercial septic tanks are business owners. Where customer retention and repeat business is key, you don't want to put guests, clients or visitors off with bad smells from your septic tank.
In addition, as business owners, we appreciate the cost of running a business, and where possible we all want to save money. Using MEGA MUNCHERS – the Big septic tank treatment will save you £000's on expensive pump-outs, with effective management of waste and improvements to pumping and aeration equipment performance, reducing wear and tear, maintenance and the chances of failure.
Through better septic waste digestion, the likelihood of foul smells, blocked drains and overflows at peak periods is minimised, improving overall guest satisfaction levels.
Commercial Septic Tank Treatment
Mega Munchers is the ultimate non-toxic, natural biological septic tank cleaner providing effective treatment, all-year-round, it includes a specially formulated biomass oxygenator treatment to quickly activate your entire septic system and drainage-field outflow network.
Just like our market-leading Muck Munchers, Mega Munchers is formulated with a broad spectrum of microbes to digest up to 97% of toilet waste, fats oils and greases, and of course, paper too.
---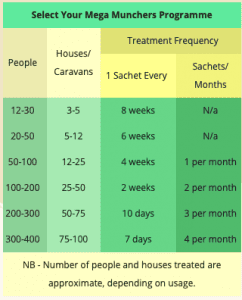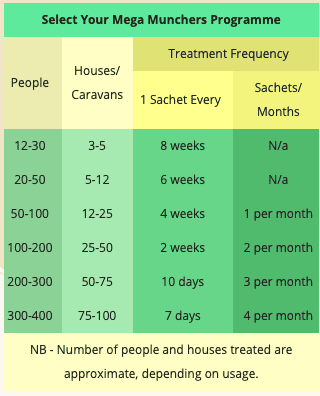 ---
Whilst treating a problem with the secondary tank chamber should start to clear up 'black-slimy' anaerobic bacteria and grease in the drainfield, if you also have very boggy soil around the tank, it should be treated too.
The problem you are experiencing is that not only have the outflow drains become far less effective, but the surrounding soil particles have also been coated with contaminants blocking the ability for free drainage into the surrounding area.
The recommended treatment programme is –
Treat the Secondary Chamber as described in the section above
You will then need a pack of 1 litre Oxy-Tonic Bio Accelerator and Muck Munchers XL sachets
Dilute 50 ml Oxy-Tonic in a 10 litre watering can and water over the boggy area
Next, dissolve a Muck Munchers soluble sachet in the 10 litre watering can and water over the same area.
Now repeat again in the next day or two, and then with a single treatment weekly for the next 3 weeks.
---
How to Use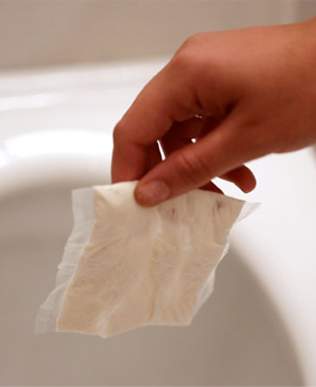 Add a Mega SoluTION-Pack Each Month Then Just Flush and Forget!
1. Flush the 1-litre container of Oxy-Tonic down a toilet or pour directly into the inward tank chamber. For optimum effect, apply when there are minimum discharges to the tank for a few hours.
2. Next, take 3 of the Mega Munchers Soluble Sachets and flush down a toilet, one by one, or drop directly into the inward tank chamber.
3. It's best not to flush the toilet again for a few hours, as some of the microbes will then start to attach themselves to organic material in the drainage pipes and help digest that too – leaving you with cleaner inward drains.
4. Refer to the chart below for the frequency of further treatments which you simply flush down a toilet as described in point 3.
TIP– If you have a slow-draining sink, you can dissolve the Soluble-Pack in lukewarm water last thing at night. Leave it in the sink for 10-15 minutes and then let it flow into the trap and drain. Leave any residue in the sink until morning before flushing it away and wiping the sink clean. This will then help to clean foreign organic material from the drain as well as your septic tank.
Showing our latest Product reviews for Mega Munchers - The Large Septic Tank Treatment
Other customers also considered...