Mega Munchers 12 Month Pack
Scalable Larger System Treatment Programme
+ tank activator and oxygenator pre-treatment
Real Benefits for You
Easy and Safe – No Detrimental Environmental Effects
Cleaner, Purer Effluent Outflows - Improves Analysis of Statutory Authority Sampling
Vastly Reduces Pump-Outs - Lower Cost, Lower Business Impacts
Digests Waste Residues on Pumps and Aerators - Reduced Maintenance Costs
Broad Microbial Spectrum - Digests Fats, Oils and Greases & Paper
Reduces Unexpected Smells & Overflows - Minimum Guest Impacts
Scalable Larger System Treatment Programme
Description
Perfect for Larger Installations – Suitable for 12 to 500+ Users
Mega Munchers is an easy-to-use, flushable soluble sachet treatment, designed especially for larger septic tank systems and bio-treatment plants.
Saves £'000's on expensive pump-outs, with effective management of waste and improvements to pumping and aeration equipment performance, reducing wear and tear, maintenance and chances of failure.
The ultimate non-toxic, natural biological septic tank cleaner providing effective treatment, all-year-round, plus a specially formulated biomass oxygenator treatment to quickly activate your entire septic system and drainage-field outflow network.
Just like our market leading Muck Munchers, Mega Munchers is formulated with a broad spectrum of microbes to digest up to 97% of toilet waste, fats oils and greases, and of course, paper too.
Ideal for all rural hospitality facilities, which rely on septic waste systems, particularly camping and caravanning sites, holiday cottage and lodge complexes, pubs and hotels. Through better septic waste digestion, the likelihood of foul smells, blocked drains and overflows at peak periods is minimised, improving overall guest satisfaction levels.
---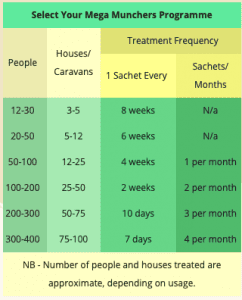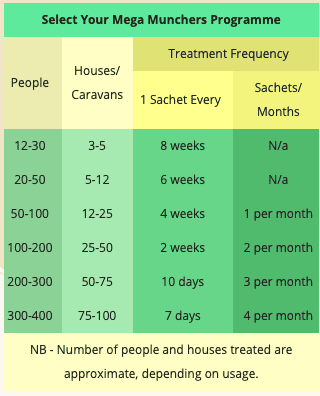 ---
Whilst treating a problem with the secondary tank chamber should start to clear up 'black-slimy' anaerobic bacteria and grease in the drainfield, if you also have very boggy soil around the tank, it should be treated too.
The problem that you are experiencing is that not only have the outflow drains become far less effective, the surrounding soil particles have been coated with contaminants blocking the ability for free drainage in to the surrounding area.
The recommended treatment programme is –
Treat the Secondary Chamber as described in the section above
You will then need a pack of 1 litre Oxy-Tonic Bio Accelerator and Muck Munchers XL sachets
Dilute 50 ml Oxy-Tonic in a 10 litre watering can and water over the boggy area
Next, dissolve a Muck Munchers soluble sachet in the 10 litre watering can and water over the same area.
Now repeat again in the next day or two, and then with a single treatment weekly for the next 3 weeks.
---
How to Use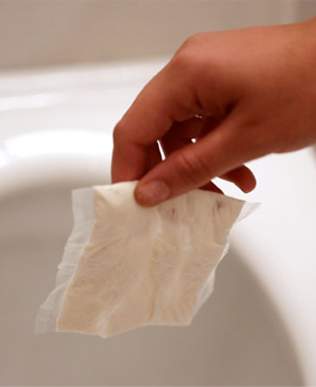 Add a Mega Solu-Pack Each Month Then Just Flush and Forget!
1. Flush the 1 litre container of Oxy-Tonic down a toilet or pour direct into the inward tank chamber. For optimum effect, apply when there are minimum discharges to the tank for for a few hours.
2. Next, take 3 of the Mega Munchers Soluble Sachets and flush down a toilet, one by one, or drop directly in to the inward tank chamber.
3. It's best to not flush again for a few hours, as some of the microbes will then start to attach themselves to organic material in the drainage pipes and help digest that too – leaving you with cleaner inward drains.
4. Refer to the chart below for the frequency of further treatments which you simply flush down a toilet as described in point 3.
TIP– If you have a slow-draining sink, you can dissolve the Solu-Pack in luke-warm water last thing at night. Leave it in the sink for 10-15 minutes and then let it flow into the trap and drain. Leave any residue in the sink until morning before flusing it away. It will then help clean foreign organic material from the drain as well as your septic tank.
4.7 / 5

rating from reviews.co.uk
"
1 reviews
2 reviews
3 reviews
4 reviews
5 reviews
Over £1,000 Saved on Septic Pump-Outs
Muck Munchers is an excellent product, so simple and easy. Our yearly bill was £120 ten years ago! But we haven't had to empty the tank since using MM and must have saved well over £1,000.
"
1 reviews
2 reviews
3 reviews
4 reviews
5 reviews
Septic Friendly Cleaning Products
Great products, thank you. My kitchen floor keeps so much cleaner with Eco Floor, my sink, shower and wash basins smell ok with Digesta and Eco Toilet works well, as do the Muck Munchers sachets.
"
1 reviews
2 reviews
3 reviews
4 reviews
5 reviews
Working Brilliantly in Bio Klargester
We have been big fans for about 5 years and still don't need our Klargester pumping out yet!
"
1 reviews
2 reviews
3 reviews
4 reviews
5 reviews
Great Product Great Value
So easy to use; so easy to store; works so well, there's no point in looking for any other product. For a year's supply, a very fair price.
"
1 reviews
2 reviews
3 reviews
4 reviews
5 reviews
Digesta Digests It
Really rate this product. Stuck some down in the showers and the water flows down the plug hole really well now. Also great at removing grease from the kitchen sinks.
"
1 reviews
2 reviews
3 reviews
4 reviews
5 reviews
ECO FLOOR Keeps Floors Cleaner Longer
Thanks for floor cleaner. I am so impressed with it. It cleans brilliantly and the results have been outstanding. It really does seem to leave the floor cleaner for longer too.
"
1 reviews
2 reviews
3 reviews
4 reviews
5 reviews
The Answer to Doggy Smells
Just ordered more ECO FLOOR Cleaner. Nothing got rid of the dogs' smell. Well not until started to use ECO FLOOR.
"
1 reviews
2 reviews
3 reviews
4 reviews
5 reviews
Septic Tank Pump-Out Driver's Comment
Our sceptic tank emptier is going to use Muck Munchers because he was so impressed – only 6-8" of sludge after 9 years for an 8 man tank.
Prev slide
Next slide