"
Customer Comment
"I've become a big advocate of your septic waste digester products since previously having had problems with a Klargester biodisc sewage plant. Your products helped enormously after bacteria were killed off in the plant following a chemical contamination and we had to fully clean down and regrow the bacteria on the discs – all operating within stringent Environment Agency permit to discharge regulations.
We've since had a new air pump sewage plant installed, things are working well and I plan on continuing with regular dosing of your Mega Munchers sachets".
Luke Morley
Mega Munchers – The Large Septic Tank Treatment
For Large and Shared Septic Tanks
+ tank activator and oxygenator pre-treatment
Scalable Larger System Treatment Programme
Available on back-order
The problems encountered by large, shared and commercial septic tanks and treatment plants are not dissimilar to those experienced for smaller domestic septic systems.
The main difference is the volume and the control of what users are flushing down into the septic tank system, be they homeowners, visitors, clients or employees.
The Benefits of Mega Munchers 12 Month Pack
Easy to Use – Environment Friendly
Vastly Reduces Pump-Outs - Lower Cost, Lower Business Impacts
Digests Waste Residues on Pumps and Aerators - Reduced Maintenance Costs
Broad Microbial Spectrum - Digests Fats, Oils and Greases & Paper
Reduces Unexpected Smells & Overflows - Minimum Guest Impacts
Cleaner, Purer Effluent Outflows - Improves Analysis of Statutory Authority Sampling
Description
PERFECT FOR SHARED SEPTIC TANKS & LARGER INSTALLATIONS – SUITABLE FOR 12 TO 500+ USERS
Mega Munchers – The Large Septic Tank Treatment is an easy-to-use, 12-month, flushable soluble sachet treatment. It has been designed especially for homeowners who share a septic tank or those who have larger scale septic systems.
It is also ideal for all rural hospitality facilities, which rely on septic waste systems, particularly:
• Camping and caravanning sites
• Holiday cottages and lodge complexes
• Pubs and hotels.
Problems Encountered by Large and Shared Septic Tanks
Large and shared septic tanks have higher demands placed on them, so owners tend to lose a certain element of control.
Many holidaymakers are unaware that the hotel, bed and breakfast or rental cottage they are staying in is not connected to the main sewage network and will have no idea of the care required to maintain a healthy septic tank system.
As such, large and shared septic tanks frequently suffer from foul smells, slow draining sinks & baths along with problems with soakaways.
The Importance of 'Healthy', Large Septic Tanks
Due to the very nature, many owners of large and commercial septic tanks are business owners. Where customer retention and repeat business is key, you don't want to put guests, clients or visitors off with bad smells from your septic tank.
In addition, as business owners, we appreciate the cost of running a business, and where possible we all want to save money. Using MEGA MUNCHERS – the Big septic tank treatment will save you £000's on expensive pump-outs, with effective management of waste and improvements to pumping and aeration equipment performance, reducing wear and tear, maintenance and the chances of failure.
Through better septic waste digestion, the likelihood of foul smells, blocked drains and overflows at peak periods is minimised, improving overall guest satisfaction levels.
Commercial Septic Tank Treatment
Mega Munchers is the ultimate non-toxic, natural biological septic tank cleaner providing effective treatment, all-year-round, it includes a specially formulated biomass oxygenator treatment to quickly activate your entire septic system and drainage-field outflow network.
Just like our market leading Muck Munchers, Mega Munchers is formulated with a broad spectrum of microbes to digest up to 97% of toilet waste, fats oils and greases, and of course, paper too.
---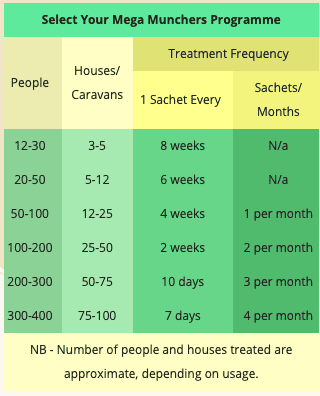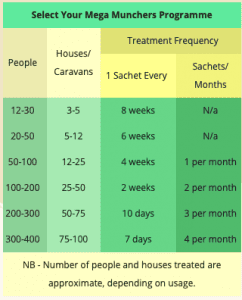 ---
Whilst treating a problem with the secondary tank chamber should start to clear up 'black-slimy' anaerobic bacteria and grease in the drainfield, if you also have very boggy soil around the tank, it should be treated too.
The problem that you are experiencing is that not only have the outflow drains become far less effective, the surrounding soil particles have been coated with contaminants blocking the ability for free drainage in to the surrounding area.
The recommended treatment programme is –
Treat the Secondary Chamber as described in the section above
You will then need a pack of 1 litre Oxy-Tonic Bio Accelerator and Muck Munchers XL sachets
Dilute 50 ml Oxy-Tonic in a 10 litre watering can and water over the boggy area
Next, dissolve a Muck Munchers soluble sachet in the 10 litre watering can and water over the same area.
Now repeat again in the next day or two, and then with a single treatment weekly for the next 3 weeks.
---
How to Use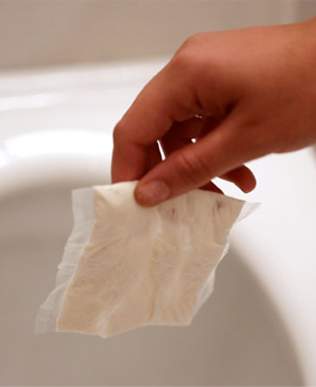 Add a Mega Solu-Pack Each Month Then Just Flush and Forget!
1. Flush the 1 litre container of Oxy-Tonic down a toilet or pour direct into the inward tank chamber. For optimum effect, apply when there are minimum discharges to the tank for for a few hours.
2. Next, take 3 of the Mega Munchers Soluble Sachets and flush down a toilet, one by one, or drop directly in to the inward tank chamber.
3. It's best to not flush again for a few hours, as some of the microbes will then start to attach themselves to organic material in the drainage pipes and help digest that too – leaving you with cleaner inward drains.
4. Refer to the chart below for the frequency of further treatments which you simply flush down a toilet as described in point 3.
TIP– If you have a slow-draining sink, you can dissolve the Solu-Pack in luke-warm water last thing at night. Leave it in the sink for 10-15 minutes and then let it flow into the trap and drain. Leave any residue in the sink until morning before flusing it away. It will then help clean foreign organic material from the drain as well as your septic tank.
4.9 / 5

rating
from reviews.co.uk
"
1 reviews
2 reviews
3 reviews
4 reviews
5 reviews
Sorted My Shower Waste and My Saniflo
Every time we flushed the Saniflo, waste came up in the shower in my daughter's bathroom. Following your advice, I put a Muck Munchers sachet in the Saniflo and left it overnight, and used Digesta in the shower and wash basin each day. In a few days all was flowing freely. The plumber had quoted £600 + VAT for a new Saniflo, so it was £43 well spent with you.
"
1 reviews
2 reviews
3 reviews
4 reviews
5 reviews
Saved a Lot of Money on Pump-Outs
I have been using Muck Munchers for nearly three or four years now and have not had to have my septic tank pumped out in all that time. This has been a great money saver as previous to using Muck Munchers the tank had to be pumped out annually. I must have saved more than £300 by using Muck Munchers in my septic tank. Thank you, Muck Munchers!
"
1 reviews
2 reviews
3 reviews
4 reviews
5 reviews
A Healthy and Odour-Free Septic Tank
I used to have a single stinky drain and despite every effort to check and understand why every so often an unpleasant smell would waft around in the breeze. Then I heard about the Munchers family and what good work they do so I gave them an opportunity to prove themselves and boy, did they ever! In a matter of two weeks, the smell disappeared and has never returned since. On a calm and quiet day, if you put your ear to the tank cover you can hear the sounds of a party. They truly are happy in their work and continue to be so to this day.
"
1 reviews
2 reviews
3 reviews
4 reviews
5 reviews
In Praise of Eco-Toilet Loo Cleaner
Apart from the lovely fragrance, this loo cleaner keeps everything clean, clear and fresh. 
"
1 reviews
2 reviews
3 reviews
4 reviews
5 reviews
Far Less Sludge and Tank Smells Better
I wanted to let you know that we had our annual service and inspection of our Klargester bio filter this morning. The engineer said he's never seen it in such good condition and significantly less sludge than in previous years – he even said it smelt much better than most units. I wasn't tempted to verify this!! 
"
1 reviews
2 reviews
3 reviews
4 reviews
5 reviews
Oxy-Tonic Bio Accelerator – the Answer to Septic Tank Smells
I have had issues with my tank for many months. I use other products from Muck Munchers but this was the first time I had purchased this. I did not completely follow the instructions as I tipped the whole bottle into the main tank and wow what a difference no more odours and no issues with the system sensors failing due to muck getting on them. I will certainly purchase again.
"
1 reviews
2 reviews
3 reviews
4 reviews
5 reviews
Eco-Floor Dual Action Keeps Floors Cleaner for Longer
So glad I tried this. It works so well. The cleanest we have ever achieved on our kitchen floor. Also, I recommend it for washing shower cubicle; both tiles and glass come out sparkling.
"
1 reviews
2 reviews
3 reviews
4 reviews
5 reviews
Eco-friendly Toilet Cleaner – Harsh on Stains
Having moved into a house with a badly stained toilet, I tried several cleaners that didn't work. Having to be careful because we have a septic tank I tried Eco Toilet and it did a fantastic job. Have been using it for over a year and will continue. Great product.
Prev slide
Next slide