"
Customer Comment
"Digesta is the miracle product everyone needs – not just those on septic systems. I don't know why you don't market the Digesta to 'normal' households. It saves a lot of cleaning of sink traps."
Lesly Edmonds
Digesta Drain Cleaner
Dual Action Enzyme Drain Cleaner
Eco Friendly Drain Cleaner
Digesta eco friendly drain cleaner is for septic tank owners and households on main sewage systems who are looking to maintain free-flowing kitchen and bathroom drains while preventing black slime, foul smells, blockages and unpleasant overflows.
Digesta biological drain cleaner is 100% environmentally friendly drain cleaner. It won't kill the good bacteria required by septic tanks, yet WILL help to eliminate fat build-ups in drains connected to public sewer systems too.
The biological drain cleaner works in two ways:
1) Breaks down long-chain Fats, Oils and Greases (FOG).
2) Digests smaller FOG molecules (Fat balls)
Benefits of Digesta Septic Tank Friendly Drain Cleaner
Digests Grease to keep Kitchen and Bathroom Drains Wast Traps Free of Black Slime Build-up
Microbes Populate Drain Walls to Digests Organic Waste to Keep Them Free-Flowing
Eliminates Build-ups of Hair and Fat Balls that Create Blockages
Eliminate Fat Build-Ups in Drains Connected to Mains Sewers
Regular Use Helps Reduce Unnecessary Septic Tank Pump-outs
100% Environmentally Friendly and Septic Tank Safe
Description
DIGESTA® BIOLOGICAL WASTE TRAP & DRAIN CLEANER – FOR SEPTIC TANK AND MAIN SEWER CONNECTION USERS. 
Digesta biological drain cleaner has been formulated using carefully selected microbes that quickly and effectively digest fats, oils and greases.
Why it is Important to Keep Your Drains Clean?
Fats, oils and grease (FOG) can play havoc with the performance of both septic tank systems and main sewers.
As untreated FOG's flow-through kitchen and bathroom drains they solidify and ultimately restrict the flow of wastewater through drainage pipes resulting in blockages with the potential to cause black slime build-up and backups in skinks basins, showers and baths.
For main sewers, fat mountains can build resulting in escapes causing environmental problems for our streets and rivers.
Digesta biological drain cleaner keeps kitchen, utility and bathroom drains free-flowing and blockage-free.
How Using Digesta Eco Drain Cleaner Can Help
1. Free-Flowing, Blockage-Free Drains and Pipes
After FOG's have been deposited in drains and waste traps they settle and cool to produce a solid or less fluid state. They clog drains making it harder for wastewater to flow from your home into both main drains and septic tanks. Over time FOGs can cause backups.
2. No Black Slime in Your sinks 
Slime normally occurs when fats, oils and grease and other organic material cling to pipes and waste traps gradually attracting more debris.
Over time, FOG and particular hair build-ups, body and other fats can create 'fat balls' that block waste traps and drains, causing slow drainage from sinks, basins, showers and baths. These slime build-ups are not necessarily harmful, but unpleasant to touch or look at and they do smell.
3. Fewer and Less Frequent Pump-Outs for Septic Tank Owners
Septic tanks have 3 layers of effluent. At the bottom, you have what is known as "sludge" – solid waste from your home that has yet to break down. In the middle, you have a liquid which consists of wastewater and dissolved / partially dissolved solids. The top layer is commonly known as "scum" and this includes fats, oils and greases (FOG).
If the FOG is left to build up, your septic tank system is put under increased strain. Without a regular biological digester treatment, the FOG can build up, resulting in the need for more regular pump-outs, which are only a short-term solution, as over time the FOG, together with sludge, will build up again and again.
4. No Nasty Odours and Blocked Soakaways
Poorly maintained septic tanks give off foul smells from sulphurous gases and also blockages, leading to soakaway problems. Natural enzyme-producing bacteria break down the long-chain FOG molecules to reduce the hardening of solids in drainage pipes and septic tanks.
Enzyme drain cleaners, on their own are only a partial solution. The difference with Digesta is that the microbes produce enzymes and then, in addition, digest the resulting fatty acids.
---
Unlike harsh drain cleaning chemicals that kill the good bacteria in your septic tank, Digesta Eco drain cleaner has been formulated to work to actively promote the bacteria needed to maintain clean, free-flowing waste traps, drains and in turn assure healthy septic tanks and soakaways.
Digesta is biological drain cleaner that uses microbial waste digestion technology that is 100% safe for the environment and perfect for septic tank owners.
In addition, used in homes with mains sewer connections, Digesta is not only the first choice for ensuring cleaner, free-flowing drains, it also helps eliminate fat build-ups within public sewer systems too.
Digesta works in two distinct ways on fats, oils and grease (FOG) waste entering waste traps, drainage pipes and grease traps too. Digesta's microbes release enzymes that assist in breaking down long-chain FOG molecules into smaller molecules, called fatty acids. The microbes then easily digest the smaller molecules to simply produce water and carbon dioxide.
---
The simple answer is No! Digest biological drain cleaner digests the FOG that surrounds hair strands and 'fluff'. This enables hair strands and 'fluff' to flow more freely through the drainage pipes and into your septic tank.
The big difference is that with standard 'Enzyme only' products, they only divide larger molecules in FOG. As they do not digest the waste, all they do is help to 'displace' and 'dump' it elsewhere (within your pipes and drains), which potentially may create similar problems, down the line.
---
How to Use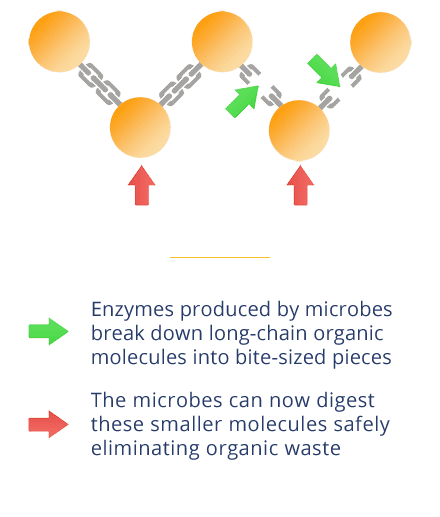 1. Dilute 10ml of Digesta eco-friendly drain cleaner (approx 2 teaspoons or small squirt) in about 200mls (approx 1 small cup) of barely lukewarm water.
NOTE – Hot water will destroy the microbes in Digesta – if hot water recently drained, flush 1-2 litres of cold water, prior to treatment.
2. Pour the diluted mix in to the sink / basin / bath / shower drain hole at night or when it will not be used for 8+ hours.
3. Repeat at 1 – 2 week intervals for free-flowing wastes and drains.
Slow-Running / Blocked Drains and Waste Traps
Repeat treatment daily until clear. Blocked drains may need clearing with a 'plunger' to allow water to flow.
Digesta has been formulated using carefully selected microbial species that quickly and effectively digest fats, oils and greases.
4.9 / 5

rating
from reviews.co.uk
"
1 reviews
2 reviews
3 reviews
4 reviews
5 reviews
Sorted My Shower Waste and My Saniflo
Every time we flushed the Saniflo, waste came up in the shower in my daughter's bathroom. Following your advice, I put a Muck Munchers sachet in the Saniflo and left it overnight, and used Digesta in the shower and wash basin each day. In a few days all was flowing freely. The plumber had quoted £600 + VAT for a new Saniflo, so it was £43 well spent with you.
"
1 reviews
2 reviews
3 reviews
4 reviews
5 reviews
Saved a Lot of Money on Pump-Outs
I have been using Muck Munchers for nearly three or four years now and have not had to have my septic tank pumped out in all that time. This has been a great money saver as previous to using Muck Munchers the tank had to be pumped out annually. I must have saved more than £300 by using Muck Munchers in my septic tank. Thank you, Muck Munchers!
"
1 reviews
2 reviews
3 reviews
4 reviews
5 reviews
A Healthy and Odour-Free Septic Tank
I used to have a single stinky drain and despite every effort to check and understand why every so often an unpleasant smell would waft around in the breeze. Then I heard about the Munchers family and what good work they do so I gave them an opportunity to prove themselves and boy, did they ever! In a matter of two weeks, the smell disappeared and has never returned since. On a calm and quiet day, if you put your ear to the tank cover you can hear the sounds of a party. They truly are happy in their work and continue to be so to this day.
"
1 reviews
2 reviews
3 reviews
4 reviews
5 reviews
In Praise of Eco-Toilet Loo Cleaner
Apart from the lovely fragrance, this loo cleaner keeps everything clean, clear and fresh. 
"
1 reviews
2 reviews
3 reviews
4 reviews
5 reviews
Far Less Sludge and Tank Smells Better
I wanted to let you know that we had our annual service and inspection of our Klargester bio filter this morning. The engineer said he's never seen it in such good condition and significantly less sludge than in previous years – he even said it smelt much better than most units. I wasn't tempted to verify this!! 
"
1 reviews
2 reviews
3 reviews
4 reviews
5 reviews
Oxy-Tonic Bio Accelerator – the Answer to Septic Tank Smells
I have had issues with my tank for many months. I use other products from Muck Munchers but this was the first time I had purchased this. I did not completely follow the instructions as I tipped the whole bottle into the main tank and wow what a difference no more odours and no issues with the system sensors failing due to muck getting on them. I will certainly purchase again.
"
1 reviews
2 reviews
3 reviews
4 reviews
5 reviews
Eco-Floor Dual Action Keeps Floors Cleaner for Longer
So glad I tried this. It works so well. The cleanest we have ever achieved on our kitchen floor. Also, I recommend it for washing shower cubicle; both tiles and glass come out sparkling.
"
1 reviews
2 reviews
3 reviews
4 reviews
5 reviews
Eco-friendly Toilet Cleaner – Harsh on Stains
Having moved into a house with a badly stained toilet, I tried several cleaners that didn't work. Having to be careful because we have a septic tank I tried Eco Toilet and it did a fantastic job. Have been using it for over a year and will continue. Great product.
Prev slide
Next slide