"
Septic Tank Pump-Out Driver's Comment
"Our septic tank emptier is going to use Muck Munchers because he was so impressed – only 6-8" of sludge after 9 years for an 8-man tank".
Philp Blatchford
Muck Munchers + FREE Bio-Booster
Market Leading Septic Tank Bacteria Treatment
SAVE £100's on septic tank pump-outs
12 x TREATMENTS – Just £3 a Month
Top-Selling Septic Tank Treatment
An environment friendly biological septic tank bacterial treatment, for domestic septic tank owners who want to maintain healthy, efficient and odour-free septic systems, clog-free drains and soakaways.
Muck Munchers is a flushable 12 x monthly bio active septic tank treatment programme that reduces organic waste by up to 97%, saving on septic tank pump-outs.
The Benefits of Muck Munchers
12 Monthly Treatments - Less than £3 per Month
Digests Organic Waste - Reducing Expensive Pump-Outs, Saving £100's
Maintains Entire Septic Systems - Ensuring Clog-Free Drains & Soakaways
Eliminates Grease Build-Ups – In Your Tank & Drains
Suitable for All Tank Types - Including Bio Treatment Units
No Unpleasant Smells & Unsightly Over-Flows – Fewer Health Hazards
Description
Muck Munchers Xl 12 Month Programme Reduces Organic Waste by up to 97%
To guarantee success each 12-month Muck Munchers XL programme comes with a Free Muck Munchers Bio-Booster Start-up Pack.
Together they'll maintain your system in tip-top condition, digesting organic material, including fats and grease, counteracting detergent, bleach and other chemical contaminants.
Why use Septic Tank Additives?
By design, your septic tank naturally breaks down wastewater, cleaning chemicals and other pollutants. Find out how your septic system works.
When this natural digestion process is disrupted the natural enzyme-producing bacteria in your tank are weakened and occasionally destroyed resulting in a build-up of fats, oils, greases, excessive sludge, foul smells and blockages.
The monthly addition of Muck Munchers® septic tank additive will maintain the eco system in your septic tank to promote the growth of the natural microorganisms (good bacteria) resulting in a reduction and the slowing down of build-ups, resulting in fewer pump-outs, odourless septic tanks and a reduced chance of soakaway problems.
---
Just 

One

Muck Munchers Programme is all Most Households Need
Muck Munchers are perfect for household up to 6 people. For large households if you have significant amounts of washing-up, laundry, baths and showers, you may need to double the dosage.
Shared Septic Tanks
If you share a septic tank with a neighbour, we recommend that you use separate packs for each property, if the total count exceeds six people.
Keeping Inlet Drains Clean
There's great merit in applying Muck Munchers in different toilets each month. When you flush the sachet down the loo, a proportion of the microbes will attach to organic waste on the drain surfaces, increasing digestion and reducing the chances of blockages.
The best toilet to apply Muck Munchers initially is the one furthest away from the outlet drain to the septic tank.
---
Triple Action Bog Busters Tank Reactivator
If you have not had your tank emptied for some considerable time or you are experiencing slow drainage from the tank to the drainfield, it is advisable to first treat with Triple Action Bog Busters
This is an intensive treatment to reinvigorate stagnant septic tanks and very slow draining soakaways, using a powerful microbial treatment, together with an industrial bacterial grease digester and an oxygenator, which increases microbial activity 7 – 10 fold.  See more at Triple Action Bog Busters.
If you are also experiencing wet, boggy soil areas around your tank, do take a look at the next section, 'Treating Boggy Soakaway Conditions'.
---
Treating Boggy Soil Soakaway Conditions
Soakaways can often become boggy in extremely wet in winter conditions or where there is a very high water-table. This will undoubtedly have been a long-term problem that can only be overcome by improving drainage from the area.
Most frequently, the problem is that not only have the outflow drains become far less effective, the surrounding soil particles have been coated with contaminants blocking the ability for free-drainage in to the surrounding area.
The recommended treatment programme is –
You will need to purchase Oxy-Tonic to use with some of your Muck Munchers XL sachets.
Secondary Tank
Dilute 200 – 250mls of Oxy-Tonic in 10 litres of water and pour in to the secondary tank.
Now, dissolve 2 sachets of Muck Munchers in 5 – 10 litres of water and again pour in to the secondary tank.
NOTE – if you are planning on using Triple Action Bog Busters you can omit this treatment and go straight to treating the Soil Area as described below.
Soil Area
Dilute 50 ml Oxy-Tonic in a 10 litre watering can and water over the boggy area.
Next, dissolve a Muck Munchers soluble sachet in the 10 litre watering can and water over the same area.
Now repeat the soil treatment again in the next day or two, and then with a single treatment weekly for the next 3 weeks.
---
How to Use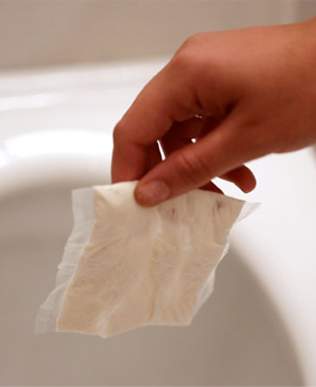 Just Flush & Forget! 
1. Simply flush the soluble Kick-Start Bio-Booster down a toilet. It's then best not to use the toilet for a few hours, to help ensure some microbes also populate drain walls to clean them up too.
2. Then each month flush down a Muck Munchers soluble sachet to maintain a healthy microbe population. If you purchase from our website we automatically send you a reminder on the 1st of each month.
TIP – If you have a slow-draining sink, dissolve a Muck Munchers XL sachet in luke-warm water last thing at night. Then let it flow into the trap and drain. Leave any residue until morning before flushing it away. It will digest fats, oils and greases coating waste pipes.
Other customers also considered...
4.7 / 5

rating from reviews.co.uk
"
1 reviews
2 reviews
3 reviews
4 reviews
5 reviews
Over £1,000 Saved on Septic Pump-Outs
Muck Munchers is an excellent product, so simple and easy. Our yearly bill was £120 ten years ago! But we haven't had to empty the tank since using MM and must have saved well over £1,000.
"
1 reviews
2 reviews
3 reviews
4 reviews
5 reviews
Septic Friendly Cleaning Products
Great products, thank you. My kitchen floor keeps so much cleaner with Eco Floor, my sink, shower and wash basins smell ok with Digesta and Eco Toilet works well, as do the Muck Munchers sachets.
"
1 reviews
2 reviews
3 reviews
4 reviews
5 reviews
Working Brilliantly in Bio Klargester
We have been big fans for about 5 years and still don't need our Klargester pumping out yet!
"
1 reviews
2 reviews
3 reviews
4 reviews
5 reviews
Great Product Great Value
So easy to use; so easy to store; works so well, there's no point in looking for any other product. For a year's supply, a very fair price.
"
1 reviews
2 reviews
3 reviews
4 reviews
5 reviews
Digesta Digests It
Really rate this product. Stuck some down in the showers and the water flows down the plug hole really well now. Also great at removing grease from the kitchen sinks.
"
1 reviews
2 reviews
3 reviews
4 reviews
5 reviews
ECO FLOOR Keeps Floors Cleaner Longer
Thanks for floor cleaner. I am so impressed with it. It cleans brilliantly and the results have been outstanding. It really does seem to leave the floor cleaner for longer too.
"
1 reviews
2 reviews
3 reviews
4 reviews
5 reviews
The Answer to Doggy Smells
Just ordered more ECO FLOOR Cleaner. Nothing got rid of the dogs' smell. Well not until started to use ECO FLOOR.
"
1 reviews
2 reviews
3 reviews
4 reviews
5 reviews
Septic Tank Pump-Out Driver's Comment
Our sceptic tank emptier is going to use Muck Munchers because he was so impressed – only 6-8" of sludge after 9 years for an 8 man tank.
Prev slide
Next slide