"
The Answer to Doggy Smells
"Just ordered more ECO FLOOR Cleaner. Nothing got rid of the dogs' smell. Well not until I started to use ECO FLOOR."
Roger Millard
Dual Action Eco Floor Cleaner
The Natural Floor Cleaner
1 Litre Bottle = up to 24 Washes
Dual Action – Microbial Floor Cleaner. Keeps Floors Cleaner Longer
Keeps Floors Cleaner Longer
Dual action ECO FLOOR is an advanced eco floor cleaner for use on all hard floors. It forms part of our septic tank friendly cleaning range. Perfect for septic tank owners and all other homes or pet owners seeking a bio floor cleaner improve their environmental footprint.
ECO FLOOR cleaner is a truly unique bio floor cleaner using microbial technology. Unlike standard liquid floor cleaners, following application dual-action ECO FLOOR cleaner continues to clean your floor, digesting dirt and grime.
The Benefits of Dual Action Eco Floor Cleaner
Extended Performance - Microbes Continue Cleaning Between Mopping
Highly Effective Cleaner – Removes Stubborn Stains
Safe for Children's Play and Pets
Removes Deep Ingrained Microscopic Grime
Eliminates Surface Pet Odours
Removes 2 x more grease than standard liquid floor cleaners
Description
Most liquid floor cleaners lead to grime build-ups around skirting boards, on plinths, in grout and within microscopic pores on wood floors, tiles, stone, grout and laminates. The microbes in ECO FLOOR populate these areas digesting this residual build-up, to improve both the appearance of your floors and enhance their non-slip characteristics.
ECO FLOOR Cleaner Keeps Floors Cleaner Longer
"Thanks for the floor cleaner. I am so impressed with it. It cleans brilliantly and the results have been outstanding. It really does seem to leave the floor cleaner for longer too."
Dr Caroline Hall
Standard Liquid Floor Cleaner Vs ECO FLOOR Cleaner
When you mop your floors using standard liquid floor cleaners you are actually pushing and spreading much of the dirt that you are trying to remove to other areas within the room, into grout, joints, skirting boards and plinths.
When you use ECO FLOOR cleaner the biological ingredients start working on the grime that you can and can't see straight away, and because each application removes more embedded grime it is more hygienic than standard liquid floor cleaners.
Regularly cleaning your floors with ECO FLOOR provides an added benefit of residual cleaning.
What Does Residual Floor Cleaning Mean?
Residual floor cleaning means once applied Eco Floor cleaner remains active, removing contaminants as they appear making future cleans quicker and easier.
The Best Floor Cleaner for Pets and Smells
ECO FLOOR cleaner has been formulated using enzyme producing microbes not found in standard liquid floor cleaners.
The microbes and enzymes work to remove everyday household grime and are extremely effective in removing odours and discolourations without using harsh chemicals.
Using harmful chemicals such as sodium hydroxide, potassium hydroxide, bleach and ammonia, unbalance the good bacteria in your septic tank are and harmful to both humans and pets.
---
ECO FLOOR cleaner works in two distinct ways to digest residual waste on floors, left in tiny spaces on and between tiles, indents, grout and along skirting boards.
1. After cleaning ECO FLOOR cleaner microbes set to work releasing enzymes that assist in breaking down long-chain organic molecules, cutting them into smaller molecules.
2. The microbes can then easily digest these bite-size morsels to simply produce water and carbon dioxide.
---
How to Use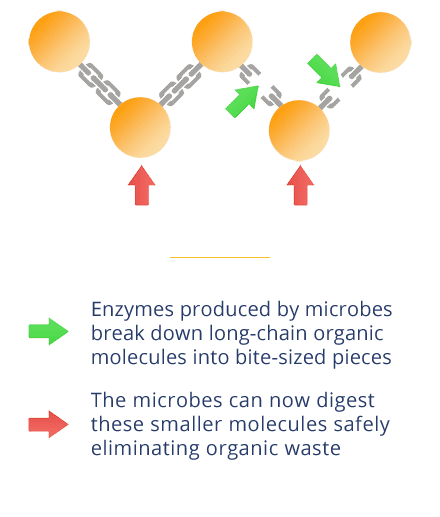 STAGE 1
Use Bio-Gen ECO FLOOR cleaner just as you would use a normal floor cleaner.
But that's where the similarity ends.
1 – Add 50 – 75 ml of ECO FLOOR per 5 litres of warm (NOT hot) water.
2 – Wash with a mop or cloth, wiping away excess.
STAGE 2
The residual cleaner left on the floor contains specially selected probiotic microbes that commence their work the moment you finish – digesting residual organic material and new waste too.
4.9 / 5

rating
from reviews.co.uk
"
1 reviews
2 reviews
3 reviews
4 reviews
5 reviews
Sorted My Shower Waste and My Saniflo
Every time we flushed the Saniflo, waste came up in the shower in my daughter's bathroom. Following your advice, I put a Muck Munchers sachet in the Saniflo and left it overnight, and used Digesta in the shower and wash basin each day. In a few days all was flowing freely. The plumber had quoted £600 + VAT for a new Saniflo, so it was £43 well spent with you.
"
1 reviews
2 reviews
3 reviews
4 reviews
5 reviews
Saved a Lot of Money on Pump-Outs
I have been using Muck Munchers for nearly three or four years now and have not had to have my septic tank pumped out in all that time. This has been a great money saver as previous to using Muck Munchers the tank had to be pumped out annually. I must have saved more than £300 by using Muck Munchers in my septic tank. Thank you, Muck Munchers!
"
1 reviews
2 reviews
3 reviews
4 reviews
5 reviews
A Healthy and Odour-Free Septic Tank
I used to have a single stinky drain and despite every effort to check and understand why every so often an unpleasant smell would waft around in the breeze. Then I heard about the Munchers family and what good work they do so I gave them an opportunity to prove themselves and boy, did they ever! In a matter of two weeks, the smell disappeared and has never returned since. On a calm and quiet day, if you put your ear to the tank cover you can hear the sounds of a party. They truly are happy in their work and continue to be so to this day.
"
1 reviews
2 reviews
3 reviews
4 reviews
5 reviews
In Praise of Eco-Toilet Loo Cleaner
Apart from the lovely fragrance, this loo cleaner keeps everything clean, clear and fresh. 
"
1 reviews
2 reviews
3 reviews
4 reviews
5 reviews
Far Less Sludge and Tank Smells Better
I wanted to let you know that we had our annual service and inspection of our Klargester bio filter this morning. The engineer said he's never seen it in such good condition and significantly less sludge than in previous years – he even said it smelt much better than most units. I wasn't tempted to verify this!! 
"
1 reviews
2 reviews
3 reviews
4 reviews
5 reviews
Oxy-Tonic Bio Accelerator – the Answer to Septic Tank Smells
I have had issues with my tank for many months. I use other products from Muck Munchers but this was the first time I had purchased this. I did not completely follow the instructions as I tipped the whole bottle into the main tank and wow what a difference no more odours and no issues with the system sensors failing due to muck getting on them. I will certainly purchase again.
"
1 reviews
2 reviews
3 reviews
4 reviews
5 reviews
Eco-Floor Dual Action Keeps Floors Cleaner for Longer
So glad I tried this. It works so well. The cleanest we have ever achieved on our kitchen floor. Also, I recommend it for washing shower cubicle; both tiles and glass come out sparkling.
"
1 reviews
2 reviews
3 reviews
4 reviews
5 reviews
Eco-friendly Toilet Cleaner – Harsh on Stains
Having moved into a house with a badly stained toilet, I tried several cleaners that didn't work. Having to be careful because we have a septic tank I tried Eco Toilet and it did a fantastic job. Have been using it for over a year and will continue. Great product.
Prev slide
Next slide