Featured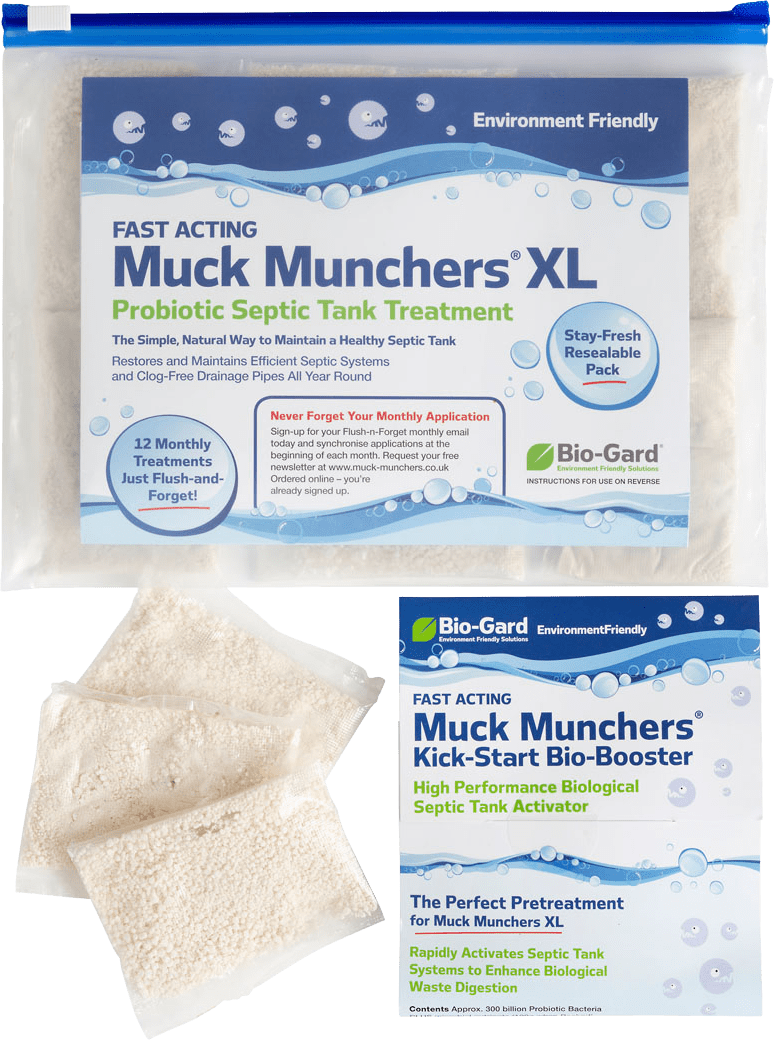 The Market Leading Septic Tank Waste Digester
Easy and Safe to Use – Biological Non-Chemical Formulation
Suitable for All Tank Types – Including Bio Treatment Units
12 Month Programme – Maintains Odourless, Clog-Free Drains
Digests Organic Waste – Minimises Septic Tank Emptying
Vastly Reduces Expensive Pump-Outs – Saving You £'100s
Eliminates Grease Build-Ups – In Your Tank & Drains
No Unpleasant Smells and Unsightly Over-Flows – Fewer Health Hazards
Price £34.95
The 100% money back guarantee
At Bio-Gard we really care about our products and our customers. If you're not entirely satisfied with the performance of any of our products, even after 6 months of purchase, then simply return any unused packs and we'll refund every penny you've spent.

Martin Harvey – Director
What's your septic tank like?
What's a bad septic tank
Do you have a bad septic tank?
Inactive, Slow-Working
Nightmare Septic Tanks
What's a bad septic tank
The Muck Munchers Product Range
Everything you need for a Clean Healthy Septic Tank System
The Muck Munchers range of products work together to provide the ideal method of keeping your septic tank and drain field clean and free-flowing.
At Bio-Gard we stand by the quality of each of our Muck-Munchers products and our service too. If for any reason you're not satisfied with your purchase of Muck Munchers XL, even after 6 months, you can return the remaining product to us for A FULL REFUND.
For Muck Munchers single application products for more severe problems, we are certain that you will have every success. Should the product fail to meet your performance expectations, then please contact us at customerservice@muck-munchers.co.uk, so that we can discuss and recommend a suitable alternative course of action to resolve your septic tank problems. Naturally, you can return any product in its original condition to us within 28 days for an immediate exchange, refund or credit.
Our Guarantee to the Environment
It is a principal ethic at Bio-Gard that any product we sell will have no detrimental environmental impact.
The Government and Environment Agency have concerns about waste water from effluent treatment plants, septic tanks and cesspits, and, pollution of water courses.
Muck Munchers natural, non-chemical, non-toxic, non-pathogenic formulations ensure a very positive effect on reducing any pollutants, ensuring the resulting water released in to the surrounding soil is cleaner and purer.